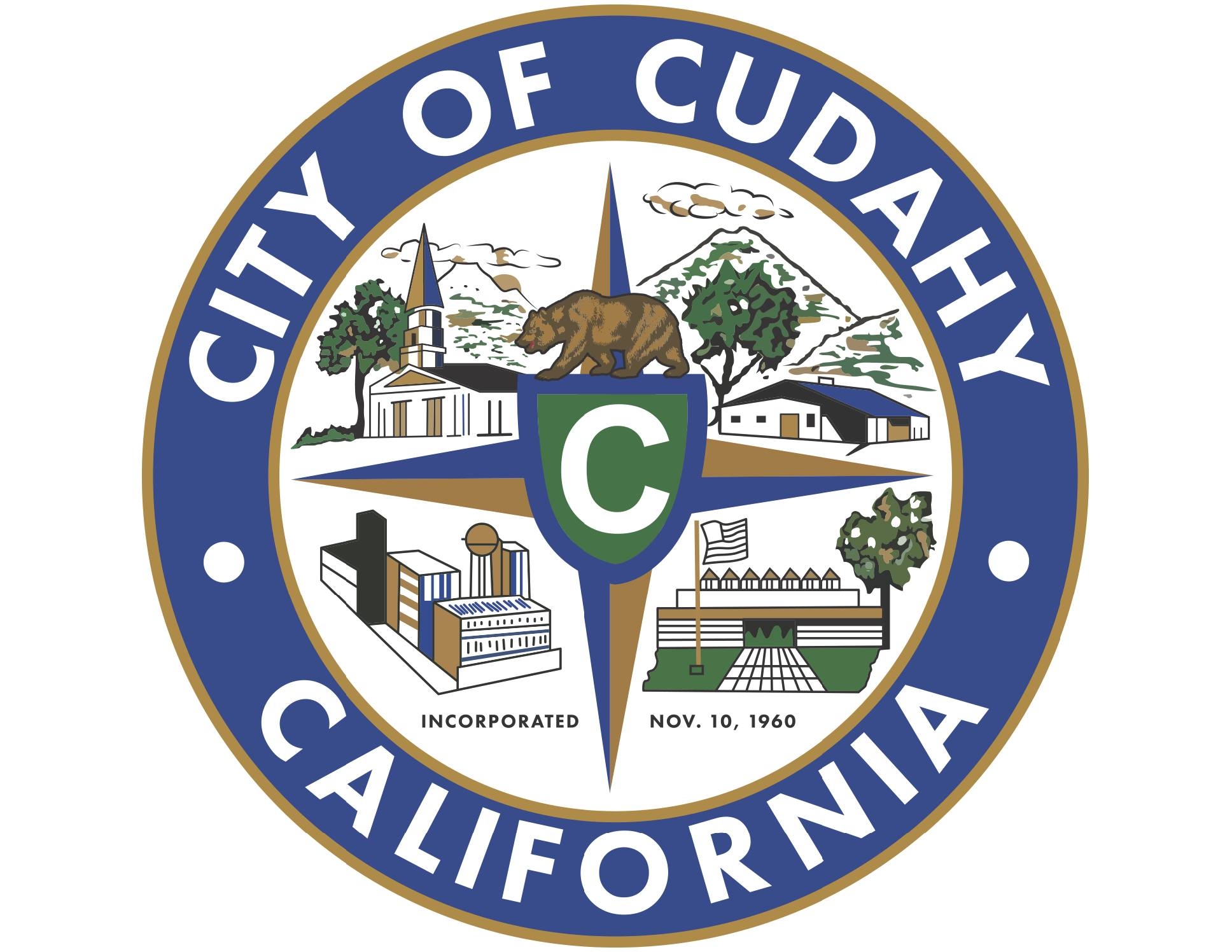 Situated in the southeastern region of Los Angeles County, the City of Cudahy employs approximately 60 people to serve its nearly 24,000 residents. However, local administration began to observe many of the City's employees began leaving to find jobs with other neighboring cities. The Cudahy administration was understaffed and had difficulties recruiting new talent.
The US labor market gained more than 4.1 million jobs in 2022 with a decades-low unemployment rate, according to the Bureau of Labor Statistics.
However, the demand for individuals with specialized skills and expertise has grown significantly. As the job market has become increasingly competitive, organizations (like Cudahy) are actively vying for top talent. This environment means job seekers are presented with a wider array of options which is particularly challenging for local municipalities who have limited resources.
The City's remaining staff were needed to manage day-to-day operations, which meant recruiting and addressing the problem themselves would be a challenge. In October 2022, the City of Cudahy asked MGT to conduct a comprehensive Classification and Compensation Study for the City's Human Resources Department. The goal was to use the data and insights derived from this study to supply the City with invaluable information on how to develop a flexible and robust employment framework–a critical and necessary component for any organization navigating today's dynamic labor market.
Overview
MGT and the City began work by establishing a project blueprint and timeline, with a goal of delivering recommendations prior to the approaching new fiscal year. MGT 's team knew efficient and comprehensive communication would be necessary to complete the project on time, so they collaborated with a diverse array of stakeholders, including the City of Cudahy's Director of Human Resources, and the Financial Director, to set clear goals with schedules. During initial meetings and orientation sessions, the City and MGT developed strategic steps and operational processes, including three main areas of focus: existing audit/analysis, market surveying and benchmarking, and comparative analysis.
Current Organization and Employee Job Data Evaluation
MGT staff reviewed the City's current pay schedule for approximately 60 employees in 52 regular job classifications (42 full-time and 10 part-time). They also surveyed managers and employees to collect data on all job classifications and capture potential recruitment or retention issues for deeper analysis.
Market Surveying and Benchmarking
Because the City was keenly aware of market dynamics impacting its recruitment and retention efforts, MGT needed to conduct rigorous market surveys. In reviewing the City's salary structures, a considerable amount of data was generated to select appropriate competitive markets for comparisons. In total, eight cities were selected for comparison and benchmarking against the City of Cudahy's compensation structure.
Comparative Analysis
MGT then reviewed all information gathered to determine the primary duties of each classification, the required education, experience, skills, training, and the compensation rates for each position. Once compared to market data, MGT could then make recommendations for the City of Cudahy's classification and compensation system.
Recommendations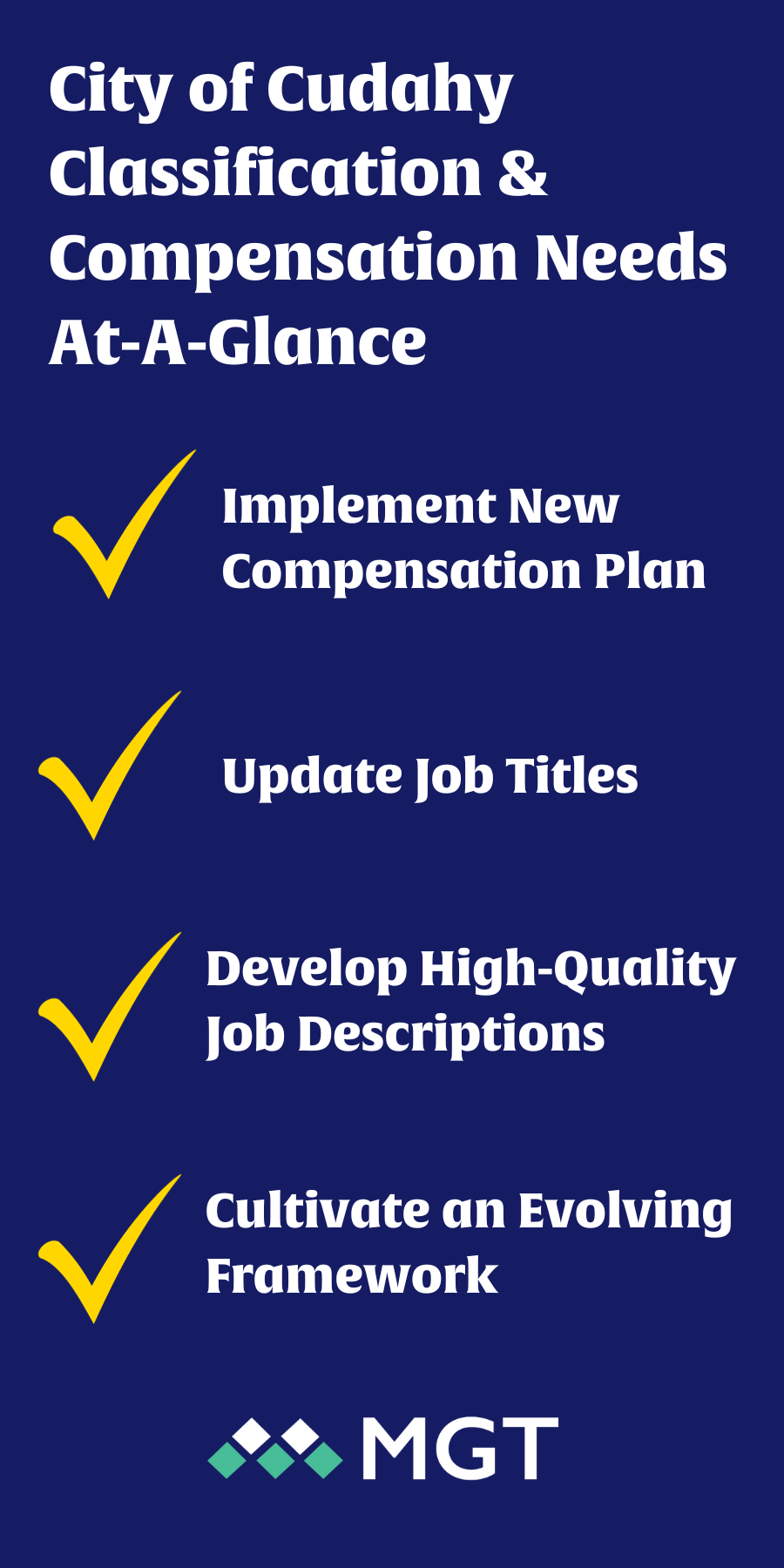 A comprehensive evaluation of the City's pay structure revealed a red flag – more than 50% of positions were compensated below market value. This data point helped explain the City's poor retention rates, and to solve for this, MGT proposed a compensation plan and policy recommendations to promote maintaining or enhancing employee salaries.
Additionally, 10 out of 50 job positions necessitated the introduction of new titles, signifying an impending recruitment challenge. A meticulous comparative analysis of employment opportunities in neighboring municipalities accentuated the importance of aligning job titles with industry norms to amplify the City's allure for prospective candidates. It's critical that job seekers resonate with the job titles the City advertises.
The revision of job descriptions also emerged as a critical component–most of the City's job descriptions were outdated. High-quality job descriptions provide many benefits to employers, including improved recruitment efficiency, training and performance measuring guides, legal protection, and increased employee engagement and retention. By deciphering the nuances of job roles, aligning responsibilities, and gauging market dynamics, the study helped to lay the foundation for a classification structure that would help the City attract and retain its highly skilled, local talent.
MGT's holistic solution will help cultivate an evolving compensation and job classification framework. By addressing various layers of the HR landscape, MGT provided the City of Cudahy with a flexible structure that can seamlessly accommodate the City's changing needs and the dynamic nature of the labor market. As a result, the City's workforce benefits from a system that not only values their contributions but also nurtures their growth and development, ultimately fostering a thriving and sustainable community.
RESULTS 
The collective efforts of MGT and the City of Cudahy ended in a resounding success, marked by the approval of all recommendations by the City Council. City officials also emphasized the transformative nature of the recommendations presented and were impressed the work was completed on time, allowing the City to implement our recommendations prior to the start of the new fiscal year.
If your organization is struggling with recruitment or retention efforts, contact us today to learn more about how our services could help.