Elevating Network Infrastructure, IT Staffing, & Cybersecurity with MGT Technology
Tuskegee University (TU) has a rich history as one of the nation's leading historically black colleges and universities with over 4000 active students. When they faced major challenges upgrading their entire campus network infrastructure, and later, sourcing support IT staff and implementing MDR solutions, they turned to MGT Technology at every turn in the journey.   
Network Infrastructure
In 2018, Tuskegee University leadership quickly realized that their outdated comms switches were causing slow network speeds and frequent disruptions which negatively impacted the staff and students' experience. They needed a network refresh. Fast. To address these issues, they worked with MGT Technology to develop a comprehensive plan and facilitate the upgrade of their campus network infrastructure to improve overall internet speeds and network performance. 
To begin the project, we conducted a detailed assessment of the existing network infrastructure including data center and identify the critical areas that required immediate attention. Our team worked closely with TU's IT staff to develop a phased approach to implement the network upgrades, ensuring minimal disruptions to the university's operations. This approach was crucial in ensuring that the project was completed efficiently and effectively.  
One critical step in modernizing and redesigning their network was to replace all the old comms switches with new switches and routers. The new hardware gear was installed throughout the campus including datacenter, campus closets, dorms, classrooms, laboratories, administrative offices, and the library.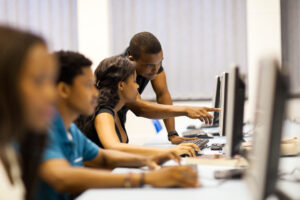 In addition to replacing the outdated switches, our team set up systems to remotely monitor client-owned devices. This allowed us to gain full visibility on the network and identify any issues before they became problematic, reducing the need for on-site support and maintenance. The remote monitoring systems ensured that the network was always running at optimal performance and ultimately resulting in cost savings for the university. 
Throughout this entire network refresh, Tuskegee University saw dramatic increases in network performance. The university saw significantly enhanced network reliability, resulting in faster internet speeds and fewer disruptions by the end of the overall refresh there by improving students and teachers experience of connectivity across the campus. 

Professional IT Staffing
To ensure a smooth transition to the updated network systems and software, TU's CIO worked closely with our professional IT staffing division to select the right Senior Business Analyst, who had experience working on supporting College specific applications and tools. We used our advanced professional IT staffing process: 
– Conducting a Comprehensive Consultation: We initiate an in-depth intake meeting with our customers to fully understand their needs and requirements. 
– Screening Applicants: Our team rigorously screens all potential candidates before presenting them formally to the customer. 
– Presenting a Stellar Shortlist: Our team presents a select few star applicants who are well-suited for the role. 
– Finalizing with Top Decision Makers: We arrange final interviews for the shortlisted candidates with the TU Leadership and the associated team.
– Selecting the Best Fit: We make an offer to the candidate who best matches the requirements of the customer. 
Once hired, our team worked with the Senior Business Analyst to ensure that they had a thorough understanding of the university's unique needs and challenges. The analyst's support helped the university staff acclimate to the new systems and software, ensuring a smooth transition and minimal disruptions to the university's operations.  
Chief Information Officer at Tuskegee University, Abraham George, said "[MGT Technology] is an exceptional organization to work with. They always supply top-quality technology talent to my organization. I would recommend them to anyone who is searching for IT staff augmentation."  

Multi-Year Managed Network & Security Services
Upon the successful completion of the network upgrades, Tuskegee University chose to engage us for Managed Network and Security services to monitor for availability, performance and capacity while also detect, respond to and mitigate the university's cyber security threats and attacks rapidly. With full visibility and control of their data and IT environment, TU now experiences optimal protection and defense of their network environment.   
After over four years of working with us, TU continues to be completely satisfied with each new initiative, as they are completed on time and within budget – meeting all their needs and objectives. As a result, TU continues to provide a high-quality technology experience for its staff and students. 
 MGT provides integrated technology, education, and performance solutions to leading universities and colleges throughout the U.S. to increase resiliency, defense, and response to cyberattacks. To learn more about upgrading your university's network infrastructure, sourcing top-tier IT professionals, and implementing advanced cybersecurity, please visit: https://www.mgtconsulting.com/capabilities/technology/