MGT helps Beaufort County School District optimize school leadership and organizational efficiency to advance student success
Beaufort County School District (BCSD) of South Carolina enrolls more than 22,000 PK-12 students in 40 schools ― 22 elementary, six middle, and six high school, as well as six other types of schools.  BCSD employs 2,904 people with over 1,700 teachers, and 176 employees at the District Office level (as of 2020).
SITUATION
In alignment with its mission and vision, and to keep pace with the increasing population and changing demographics of the county, the Beauford County School District partnered with MGT Education to conduct an organizational effectiveness review. The study included an assessment and analysis of current staffing levels and workload, as well as a school district peer comparative review, which included research, interviews, and surveys. MGT provided recommendations for the most effective and efficient staffing to meet the performance expectations of the growing school district.
Changing population and Demographics
Beaufort County is the second fastest-growing county in South Carolina with a population of more than 191,748 according to 2021 census data. By 2029, the population estimate in Beaufort County is predicted to top 200,000 ― an increase of 17,209 or 9%. The anticipated population growth exceeds the state level by 3% and the nation by 5%. Those under the age of five are predicted to grow by 19%, and 6% between the ages of five to nine while the school age population above nine years of age will decrease by 2,000 (19%). The greatest decline will potentially occur among those age 10 to 14 with a 15% decline.
When considering race and ethnicity, white residents will increase by 13,000 or 10%. Other races and ethnicities will grow at similar or greater percentages, and those with a Hispanic background will increase by approximately 2,000 people (10%). Demographic changes have the potential to impact enrollments at BCSD, which necessitated a review of the leadership and staffing required to meet the needs of the changing population.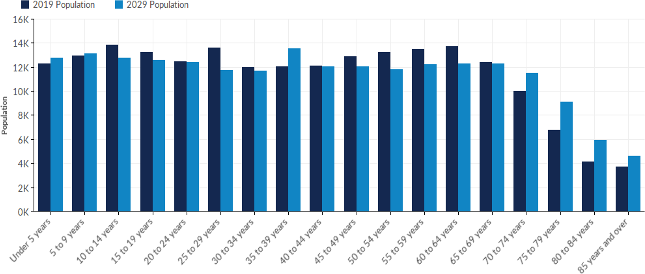 Source: EMSI Q4 2019 Data Set
Optimize resource allocations
With a preliminary 2020 budget at 10% greater than 2019, BCSD's priorities included:
Providing competitive compensation packages to recruit and retain quality teachers
Enhancing safety and security at all schools
Addressing achievement gaps in academic performance
The increase in budget created opportunities for position upgrades, cost of living raise for teachers, new positions, as well as bus driver and athletic stipend increases.
However, challenges for the District also included:
Continuing instructional momentum
Addressing & equalizing the span of control (number of direct reports, etc)
Student growth and diversity
Facilities maintenance
MGT found that Beaufort's percentage of leadership budget is lower for program and district management. BCSD had the lowest percentage of funding for leadership in the state of South Carolina, at 7.07%. Bamberg County was the highest in leadership expenditures at 14.88% of the budget. The leadership per pupil spending for Beaufort was $315 less than the average of all school districts in South Carolina.
MGT APPROACH
Our team set out to provide an Organizational Efficiency Assessment, which includes:
Review and summarize current organizational structure, workload and staffing levels
Analyze the effectiveness and efficiency of the district in delivering administrative support services (finance, human resources, facilities/operations, information technology, instructional services, student services, and school staff) to meet the demands and expectations of the school district
Benchmark other school districts of similar size, operations, and geographic location to provide comparative data
Make recommendations for greater efficiency and effectiveness of school district operations, staffing levels, and structure
Identify opportunities to enhance quality, eliminate duplication, and streamline processes
Provide projections of areas with possible budgetary savings or needs for additional resources
SOLUTIONS
With one of the lowest percentages of finances spent on leadership as compared to the rest of the state school districts, Beaufort County School District can review the current budget for opportunities to reallocate funds or identify ways to add support for additional leadership staffing. This is important as research over decades confirms that effective school leadership creates better outcomes for students and schools.
Following are a few of the top recommendations for BCSD:
Reorganize staffing to align with primary functions within the district offices. For example,Athletics should be in a department primarily focused on students as opposed to the department primarily focused on facilities. In addition, create a leadership role under student success to oversee athletics.
Design all departments with clear organizational charts that are consistent in design and reporting lines. Organizational charts should be posted where employees can easily access.
Design a staffing model formula which is weighted to allow schools with higher needs to have more staff and support with justification of how positions are allocated.
Future Strategies for Enhancing Organizational Efficiency and Effectiveness
In addition to addressing the recommendations for organizational efficiency and effectiveness, BCSD is also considering more in-depth studies to prepare for future changes in population, as well as build capacity for greater student success.
MGT supports BCSD's mission to provide a personalized learning approach to enhance the student experience in a safe, nurturing and engaging environment, and prepare graduates to compete and succeed in an ever-changing global society and career marketplace.
"It has been delightful working with MGT. Your organization completed an efficiency study for Beaufort County School District in May 2020. During the study, your group was proactive, responsive, great listeners, included our thoughts in your process, thorough, and professional.

Your effectiveness with the efficiency study prompted us to contract with your organization again to conduct a classification and compensation study. It has been a pleasure working with you." ― Alice W. Walton, Chief Administrative and Human Resources Officer, BCSD
MGT announces its 2023 ranking in Inc. 5000's 2023 list has improved substantially with 405% revenue growth over the past 3 years.
Our professional staffing services offer a turn-key solution to busy clients who are facing the difficult task of securing highly qualified IT support staff.
MGT, a tech-led managed services business delivering high-value technology and social impact solutions for State, Local, and Education (SLED) agencies, national philanthropic organizations, and Fortune…