Preventing Cyber Security Attacks
Public agencies across the country – including municipalities, school districts and higher education institutions – are being targeted with ransomware attacks at an alarming rate. Threat Actors are restricting network and data access, disrupting workdays, and gaining unauthorized access to staff and individual's personal information. Some of the nation's largest cities and school districts have experienced cyber threats and ransomware attacks. But they are not alone.  
According to the 2022 "Verizon Data Breach Investigations Report," ransomware attacks surged dramatically in 2022; ransomware was involved in 25% of all breaches. In 2022, 106  state or municipal governments or agencies were affected by ransomware. This is an increase from 2021, when there were 77 ransomware attacks on governments.*  
Cities and counties can take significant steps to fortify their networks and systems to reduce the impacts of cyberattacks by regularly: 
Conducting cybersecurity assessments to help identify and address vulnerabilities.

 

Developing and practicing cybersecurity preparedness and remediation plans within a well-documented and communicated playbook.

 
Security assessments will help you understand maturity levels within an industry-standard security framework, technical vulnerabilities, or other potential deficiencies that can expose you to unnecessary risks. Once completed, these projects yield valuable next steps districts can take to improve their organization's overall security, allowing them to focus on what matters most ― keeping citizen's data safe.    
We recommend these key assessments to help guard against attackers: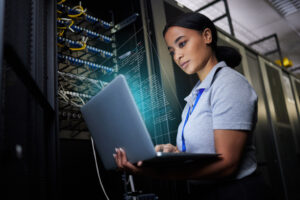 Vulnerability Assessment: A vulnerability assessment will identify weaknesses and vulnerabilities in an organization's systems, networks, and applications that could be exploited by cybercriminals. While identifying potential vulnerabilities, this assessment will also help prioritize remediation efforts, maintain compliance, improve incident response, and enhance the overall security posture of the city or county. 
Penetration Testing: Penetration testing is a simulated attack on a network and systems to test resilience against cyberattacks. Penetration testing helps to identify potential security gaps and vulnerabilities in the IT infrastructure. It can also help evaluate existing security controls, test incident response plans, comply with regulatory requirements, and increase employee awareness of cybersecurity threats. 
Security Audits: Security audits assess the effectiveness of an organization's security controls, policies, and procedures. This assessment helps to identify gaps in security controls and provides recommendations for improvements. A municipality needs security audits to ensure the protection of sensitive data, compliance with legal and regulatory requirements, and to build trust among stakeholders. 
Risk Assessment: A risk assessment is the process of identifying potential risks and threats and helps to prioritize security measures and investments based on the level of risk. A cybersecurity risk assessment to prioritize mitigation efforts, comply with legal and regulatory requirements, and build understanding, collaboration, and confidence among stakeholders. 
Compliance Assessment: Compliance assessments ensure that cybersecurity policies and procedures follow relevant laws, regulations, and industry standards. To protect sensitive information, cities and counties often must comply with a variety of federal and state laws and regulations. This assessment also helps to identify gaps in cybersecurity controls and a path to increased maturity. 
Overall, these assessments are critical to ensuring that municipalities are prepared to protect their systems, networks, and data from cyber threats. By identifying vulnerabilities, weaknesses, and gaps in their cybersecurity measures, school districts can take proactive steps to improve their security posture, identify and halt attackers, maintain business continuity, and reduce the risk of losses due to a cyberattack. 
MGT provides integrated technology, education, and performance solutions to leading school districts, universities, and colleges throughout the U.S. to increase resiliency, defense, and response to cyberattacks. To learn more about protecting your city or county's IT infrastructure, network, and cybersecurity with MGT's Security Assessment and Managed Detection and Response (MDR) Services, please visit: https://www.mgtconsulting.com/capabilities/technology/ 
Sources
Verizon DBIR Data Breach Investigations Report https://www.verizon.com/business/en-gb/resources/2022-data-breach-investigations-report-dbir.pdf