The landscape of education is changing rapidly, with technology playing a crucial role in the learning process. However, as schools become increasingly digital, they become more vulnerable to cyber threats. According to the Center for Internet Security, a federally funded nonprofit, nearly one in three school districts in the US have experienced a cyber attack. These threats present complex challenges with unfortunate and tangible consequences. Students, teachers, and parents are facing a new set of concerns that can disrupt the educational experience. 
Securing school districts can be very challenging, because they are often understaffed and underfunded. Schools with older, legacy systems may lack necessary security updates, making them easy targets. Schools who adopt cloud-based systems find these platforms have many vulnerabilities. In addition, the growing number of devices used by students and teachers increases the need for robust security measures, especially considering the rapid rise of shadow IT. This refers to unauthorized software and devices. 
Beyond the immediate impacts, there are systemic risks associated with school cyber attacks. When a ransomware attack happens, trust and confidence is eroded. If the breaches lead to actual data leaks and privacy violations, reputations are ruined. But we're not just talking about the implications to entire systems, the impact to students and learning is even more prevalent and detrimental. 
According to the 2022 U.S. Government Accountability Office Report, the loss of learning following a cyber attack ranges from three days to three weeks. Recovery can take anywhere from two to nine months. In addition, one of the most concerning impacts is  how students' digital fingerprints are compromised. When this happens, identity theft and long-term consequences start to occur (e.g., an inability to access transcripts, possible academic records manipulation, etc.) 
Teachers and parents also feel the negative effects. When school operations are disrupted, parents may be unable to enroll their children in kindergarten or other essential programs. Meanwhile, teachers may face immediate financial setbacks, including missed paychecks and difficulties accessing their employment benefits when their school's financial and administrative systems are compromised.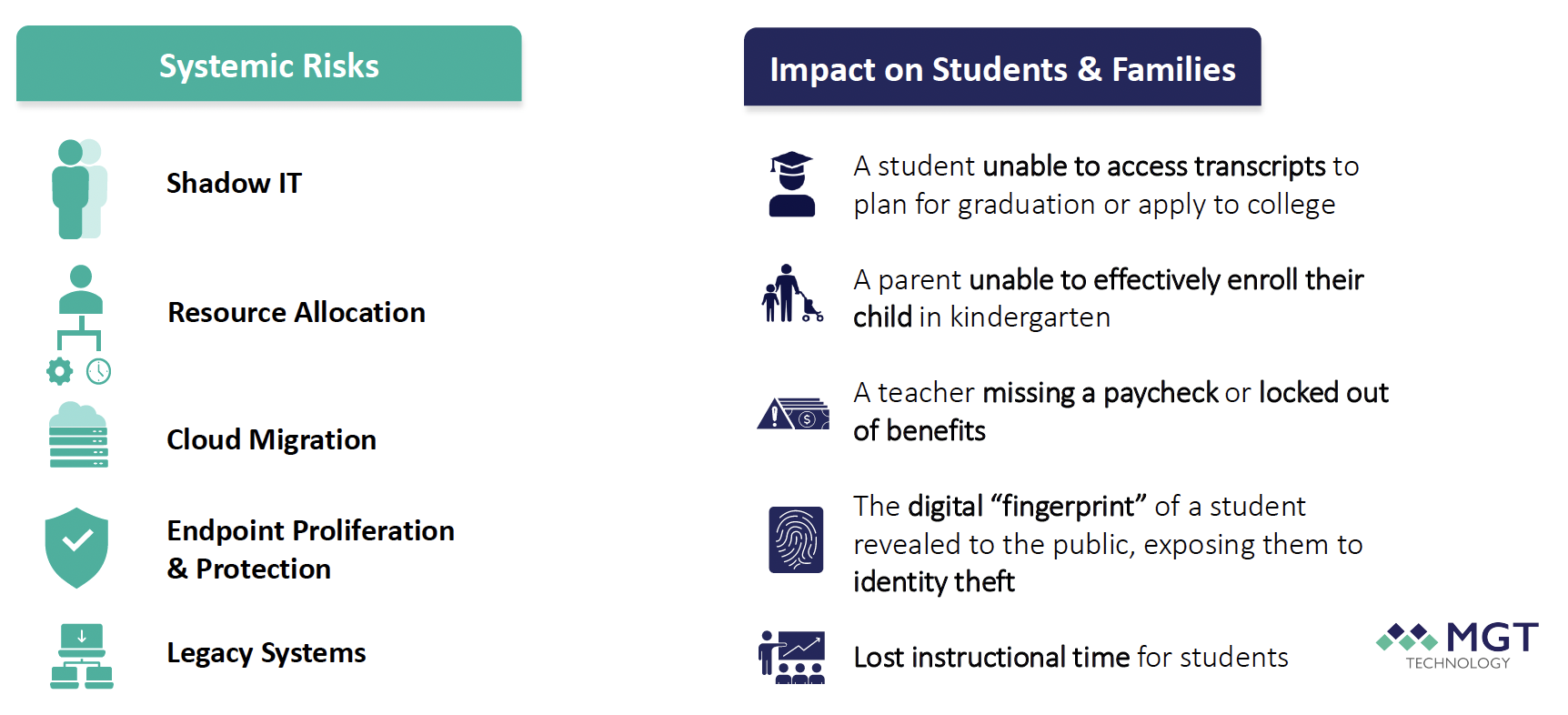 The White House is taking proactive steps to help safeguard school districts against attackers. By offering best practices, new resources, and a proposed $200+ million in cybersecurity grant funding, the nation's 13,000+ school districts will be better equipped to strengthen their security posture and prevent cyber attacks from disrupting classrooms.   
While it's impossible to achieve 100% security, even with government support, schools can take measures to prepare and build resilience against cyber threats. An effective IT strategic plan, like that offered by MGT Technology, is a cornerstone of this effort. The plan should take into account three critical domains: governance and processes; technology and systems; and people and resources. ; and people and resources.  
Ensuring cohesion in a district's IT strategy is vital. This means that policies and practices should be consistent and well-coordinated across the board. Funding considerations are essential to invest in the necessary technology and training. Schools should also prioritize change and risk management, transitioning from the current state to a more secure future state. By implementing these key building blocks, districts can ensure maximum security: 

As cyber threats evolve, it's imperative for school districts to build a robust IT strategy and security posture. While 100% protection is unattainable, the right building blocks can ensure readiness and resilience in the face of inevitable cyber threats. Prioritizing cybersecurity in schools is not just about protecting data but safeguarding the education and future of our students. 
MGT provides integrated technology, education, and performance solutions to leading school districts throughout the U.S. to increase resiliency, defense, and management for IT networks. To learn more about protecting your school's IT infrastructure with MGT's Security Assessment and Managed Detection and Response (MDR) Services, please visit: Technology – MGT (mgtconsulting.com)
Sources
White House – K-12 Schools Cybersecurity: https://www.whitehouse.gov/briefing-room/statements-releases/2023/08/07/biden-harris-administration-launches-new-efforts-to-strengthen-americas-k-12-schools-cybersecurity/

 
FCC Chairwoman Rosenworcel Takes Steps To Protect Schools Against Cyber Attacks

 

DOC-395069A1.pdf (fcc.gov)