Government leadership quantifying and acting on disproportionality and disparity – that is what prompted the City of Charlottesville and Albemarle County to undertake a review of its adult criminal justice system. In 2016, MGT was selected to study and analyze data from three different systems: (Albemarle Charlottesville Regional Jail, Offender AID and Restoration Pre-trial Services, and local Circuit and General District Courts) and offer quantitative evidence about whether there were disparities at the critical points where decisions were made in the adult criminal justice system. The City and County desired to show their commitment to ensuring fairness within the community, which meant embarking on a journey of understanding the disproportionality and disparity in its many systems.
Examining the continuum from the time a person is arrested, to their time in jail, to court appearances and probation or parole, these decision points were independently reviewed by the MGT team to determine if disparity occurred. The team obtained data from various court entities and coupled this with interviews from police officers, attorneys, inmates, and community members to correlate personal experiences with the criminal justice system decision data. Presenting visual representations of the data (as seen below) was helpful in explaining the findings to the public.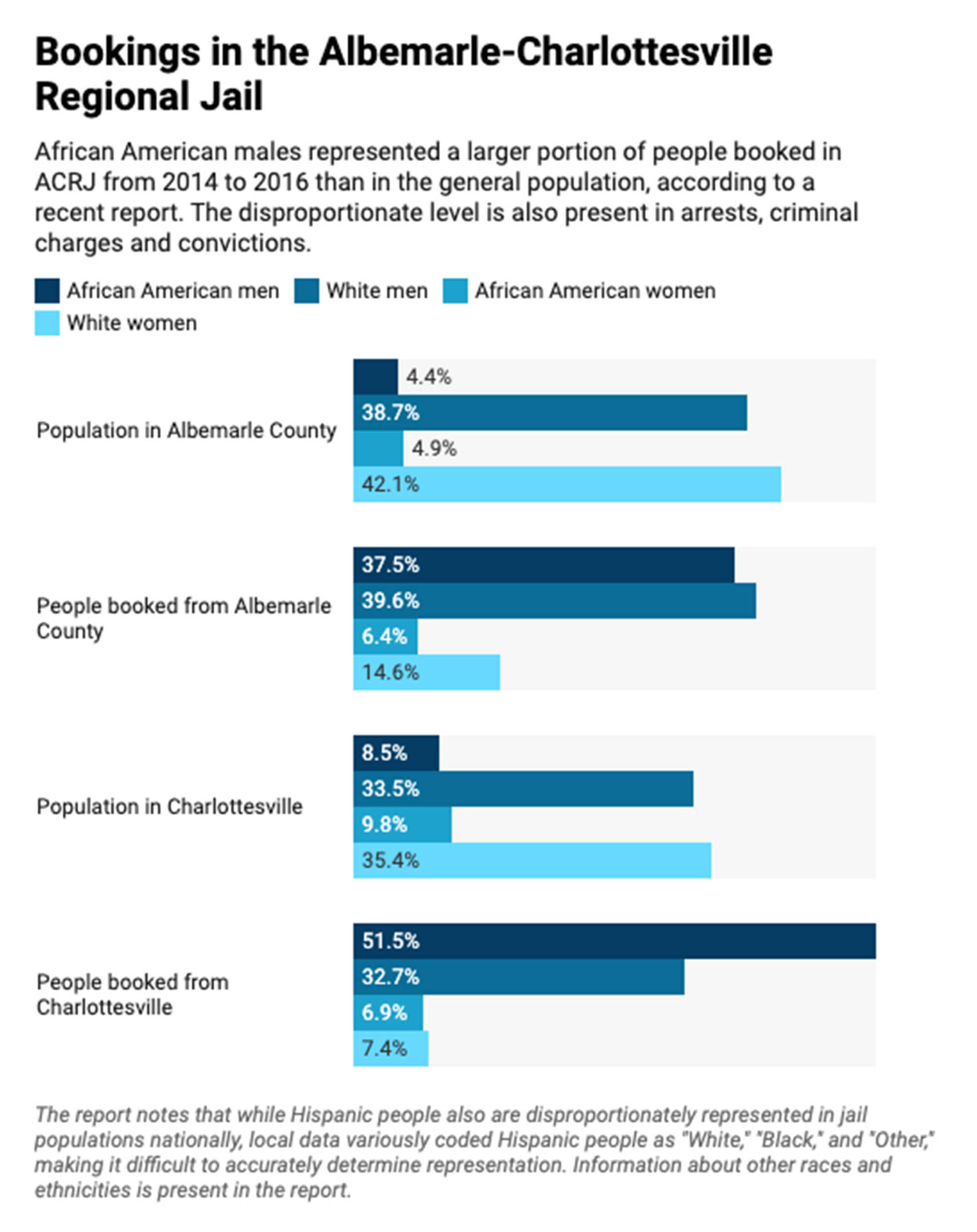 The correlated research reported three key findings:
Racial disproportionality at all points in the adult criminal justice system.
No racial disparity at two critical points in the adult criminal justice system: duration of actual time served for an offense and duration of the sentence imposed (males only).
The racial disparity was identified at five points in the adult criminal justice system: the seriousness of charges, number of companion charges, bail-bond/release decisions, length of stay awaiting trial, and guilty outcomes at trial.
Ultimately, MGT suggested nine recommendations with multiple components as actionable items for the client to begin addressing the issues. Many of these have already been implemented and the city and county are working towards furthering MGT's suggestions during phase two of the project, beginning in 2020.